WAYS TO FIGHT PLASTIC POLLUTION
The world is waking up to the scourge of plastics in our oceans and waterways, images and reports of beaches piled with plastic bottles and sea life suffering.
Elastec is a major manufacturer of oil spill equipment, we have developed groundbreaking and award-winning systems for collecting spilled oil from such environments. We have products for controlling and collecting floating plastics however we recognize that these tools could be enhanced and improved, we want to collaborate and innovate to find better Ways to Fight Plastic Pollution.
Currently, collection methods for floating plastic fall into two categories, static or passive. Static methods would be barriers strung across rivers and waterways, sometimes married to floating baskets or bins (Brute Bin / Brute Boom). Active methods include boats with integrated collection systems (Omni Catamaran).
Elastec has already participated in numerous trials, installations and community programs. We are currently field testing Brute Bins in the United States and have traveled the country with our Omni Catamaran trash collection boat.  We also support the Chesapeake Bay Foundation's "Clean the Bay Day." Our employees collected 800 lbs of trash from Norfolk's harbor in 2018.
We will be posting updates as we participate in cleanup initiatives and develop equipment. Elastec would like to hear from you if you have a plastic trash problem where we might be able to assist. We believe that by getting out there and working the problem we will evolve better solutions to this important problem.
Elastec installed a Bottle Boom in a small ditch that runs through the town. Most of the time the ditch is dry, especially in the summer months. However, after a …
Bottle Boom Fighting Plastic Pollution & Other Debris Read More »
Plastic pollution mostly originates on land and is washed down through ditches, creeks, streams, and rivers and then into the ocean, impacting wildlife and the environment. Billions of pounds of …
What is the impact of plastic pollution on the ocean? Read More »
Elastec's equipment (PermaFence, Brute Bin, and Omni Catamaran) was recently featured in a study on plastic pollution control. The paper, titled "Ridding our rivers of plastic: A framework for plastic …
Elastec equipment featured in study on selecting devices to capture plastic pollution Read More »
Coca-Cola is to test a paper bottle as part of a longer-term bid to eliminate plastic from its packaging entirely. The prototype is made by a Danish company from an …
Ghost nets aren't supernatural, but they are legitimately scary. A ghost net is a fishing net that's been lost or abandoned in the ocean. They are one particularly egregious part …
Our oceans are haunted by ghost nets: Why that's scary and what we can do Read More »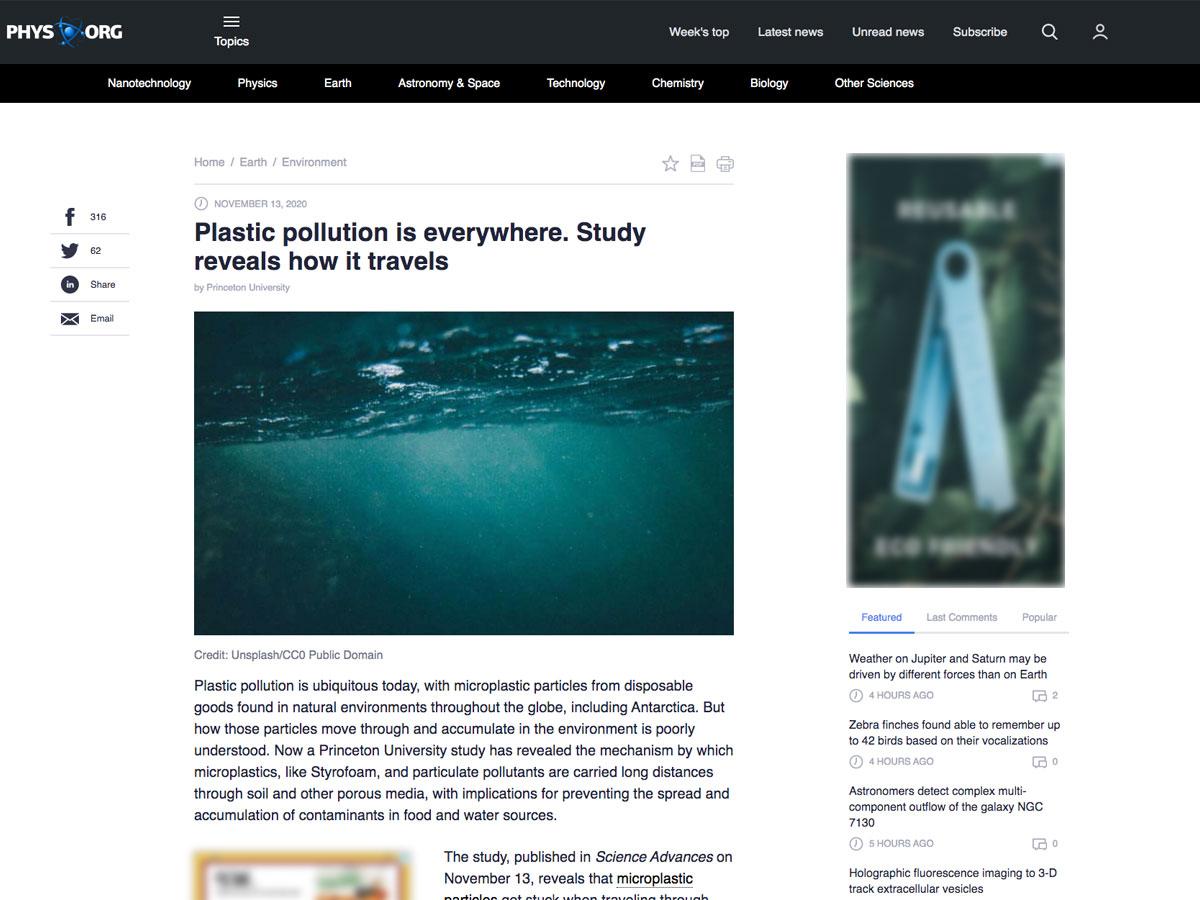 Plastic pollution is ubiquitous today, with microplastic particles from disposable goods found in natural environments throughout the globe, including Antarctica. But how those particles move through and accumulate in the …
Plastic pollution is everywhere. Study reveals how it travels Read More »